Switchgear Limiteds bespoke assemblies cover a wide range of solutions from a basic part L2 metering distribution board up to a 3200A cubicle switchboard.
Our experienced team of engineering staff can offer bespoke solutions on fully type tested cubicle switchboards to BS EN 60439-1, which can be designed to meet your individual needs.
We manufacture various patented busbar systems upto 80ka and incorporate leading brand circuit breaker and fuse technology from our suppliers including Merlin Gerin, Abb, Dorman Smith, Crabtree and Eaton Mem.
IP31 to IP65 external enclosures with a compact modular design with extendable busbars in front and rear access cabling options.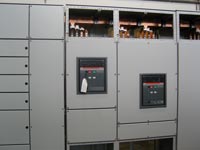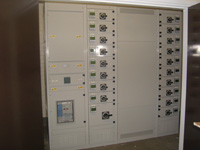 For further information or to request a written quotation and drawing please telephone our sales department on 0113 457 1641 or email on enquiries
@switchgearltd.co.uk