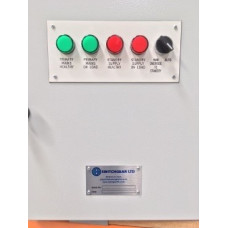 CONTACTOR ATS PANEL
Our standard range of Contactor Auto changeover panels are from 25amp up to 1000amp.
Mains to Mains applications are generally where timing relays are not required and a generator in not used within the electrical system.
The Mains failure sensing and contactor changeover is instantaneous and it is assumed that the 2 sources are from mains utility supplies, thus there is no requirement for timed generator start and stop delay signals.
Please contact our office when ordering to confirm delivery
Telephone 0113 457 1641 or email link enquiries@switchgearltd.co.uk